A Journey Through Food, Dualities And Curiosities: With Karla Rakuljic Kunjasic
Did you ever wonder
if something that seems,
isn't.

When you feel convinced
with the spoken truth,
which isn't.

When the symbols
lose their curves,
and become something else.

When something
that appears black and white,
isn't.

Designer and artist
Karla Rakuljic Kunjasic
explores how food can - with its multi-sensorial features - be used as a discursive actor in dialogue on important matters that affect society, and a tool to spark curiosity. The experience is a five-course dinner that encapsulates four varieties of duality in food: soft and solid; cold and warm; bitter and sweet; temporal and permanent. Visualised in black and white, the monochromatic aesthetic suggests that there is only one possible judgement to be made about a situation.
But, Karla Rakuljic Kunjasic asks, is the food what it seems to be?
What are the facts, and when does it occur to look beyond the surface?
What is your background and which aspects do you believe are recurrent in your artistic practice?

KR
For a long time I seeked to position myself in a specific artistic category. Since high school, I have been collaborating with photographers, writers, designers; always trying to think about how I could be a creative in different projects. When the time to apply for university came, I had many open options. Would I rather be a movie director, or a visual communicator, or a landscape architect? I found myself studying visual communication design, where I had a chance to diverge my thinking of what design is. This approach allowed me to take a more interdisciplinary approach that I further explored while doing my Master of Fine Arts at Konstfack University of Arts, Crafts and Design. There I realised how much the artistic disciplines are hybrids, and how many mediums of expression exist. The possibility of working closely with materials in the workshops made me realise how I missed working with my hands.
Thus I enjoy exploring different mediums of expression. There is a common thread that is consistent between them. One thing I believe is recurrent in my works is the composition. The contrast of light and shadow. A red thread about how things relate to each other in a space or narrative.
Being born in Croatia, how does your Mediterranean culture influence your practice? And how did that collide with the food context of Sweden?

KR
Being raised so close to the sea, I am always drawn to the salt water. Moving so north to do the study, I quickly noticed the difference in foods and diets. It was a perfect example of how you never know what you have until you lose it. I was craving all the simple flavours that were not possible to taste, due to the different climate and possibilities of growth, and imported fruits and vegetables that were just not it. After being so much in my head, I realised the potential the food has in the combination with design.
Food and duality: how was working with food from a philosophical perspective?


KR The most intriguing (and problematic) thing about food is that it is so temporal and ephemeral. That aspect is where the whole duality narrative started. After a while food spoils, but the sensorial memory of it we carry with us for a long time. Forever, eventually. I can still feel the taste of my favourite fish, caught from a fisherman back in 2015. I clearly don't have the fish anymore, but the taste and experience that I still have.

Reading more about the philosophy surrounding food, from growing, to production, transportation, eating, digesting, duality always happens. I became interested in exploring the question of "what else food is?". It is nutritional but also toxic, can be a source of comfort for some, of discomfort for others.

Food gives us pleasure and anxiety. We risk a lot but we also find safety in it. We eat very distant ingredients while growing our own salad. All these binaries and dualities are part of our everyday relationship with food.



Food is not a material that designers and artists are so used to working with. We are comfortable with quite different materialities: how was working hands-on with food and aliments, through design?

KR Food engages our multiple senses, and because of that I believe it is a powerful tool to provoke questions or communicate ideas. I developed my thesis during the Spring of 2020, in the middle of the pandemic, and that wasn't easy. I was not feeling comfortable in getting into professional kitchens, so I decided to work at home in my kitchen. Besides, I had the opportunity to work with a professional chef as a consultant. What I enjoyed about the process was making the tricks - and tricking myself into them sometimes. After you work alone with all your senses on alert, you get numb after a while. I was getting confused by different consistencies: for example, the cauliflower stracciatella. I was really happy about it visually, but the smell was really different from what one could expect (cauliflower instead of stracciatella).

As I mentioned before, I really enjoyed the process. I had to make a mould for the egg dessert, I worked with glass, and developed recipes from my childhood and cultural heritage, such as the cuttlefish risotto. That dish is something I have grown up with, but many people could not understand what it was. In that sense, I recognised the importance of the food context.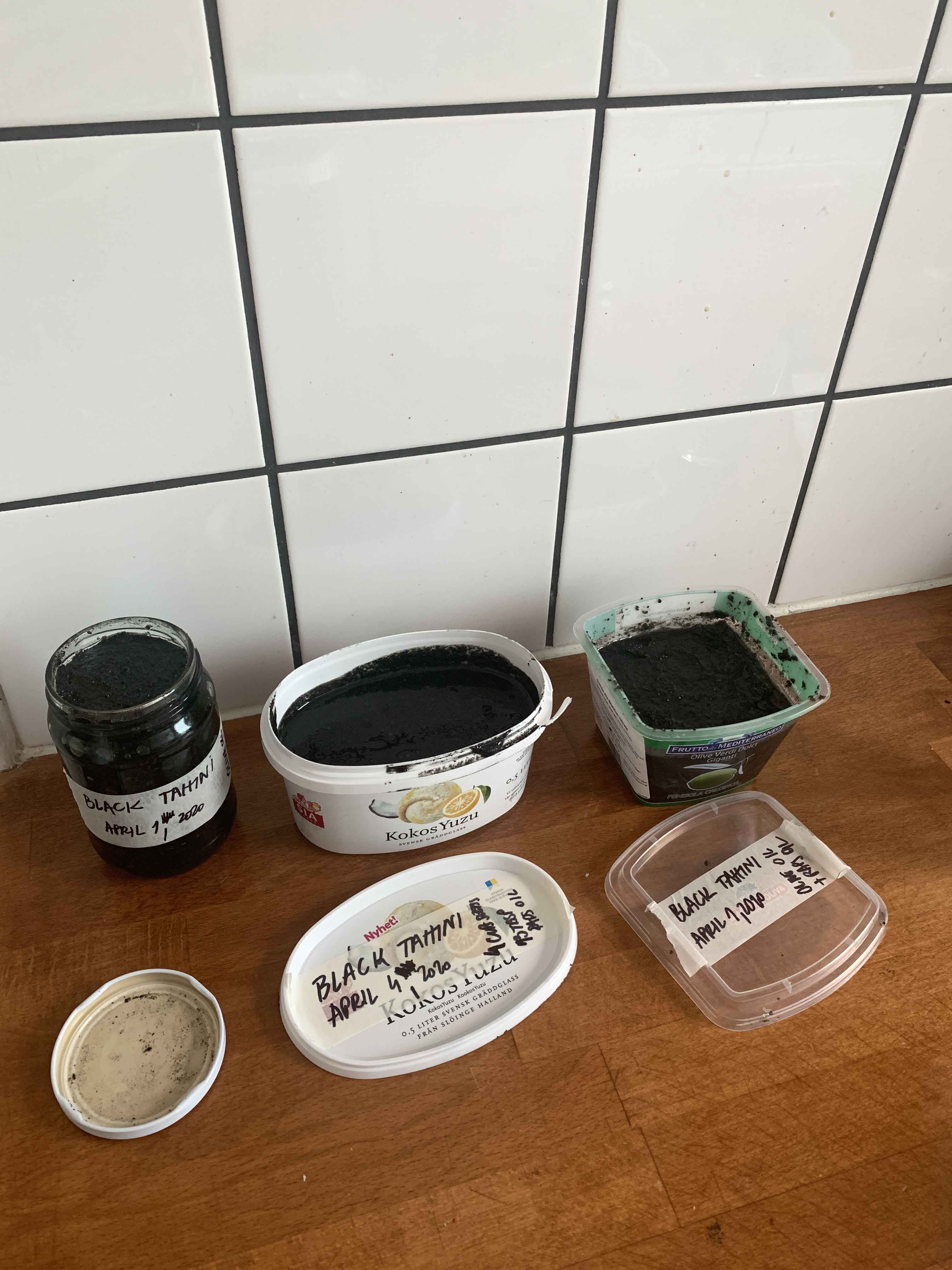 Did you have the chance to engage people into try the dining experience?


KR The thesis was exhibited at SEART (Sweden Emerging Arts), together with other talented artists, in September 2020. For the exhibition I prepared two pralines, one soft and other solid for 80 guests. It was a variation of the fifth, the last course from the dining experience. One praline was soft panna cotta, and the other was firm chocolate. I wanted to hear impressions and it was interesting because the guests ate the dish outside, before seeing my work. It was served then as an amuse-bouche to my project. I found it ironic that I thought of doing a thesis that involved all the senses, and when Covid happened everything we could focus on was digital and visual. How could I translate my project to be more digital and covid-friendly? I tried to work on what I got, but it wasn't the same.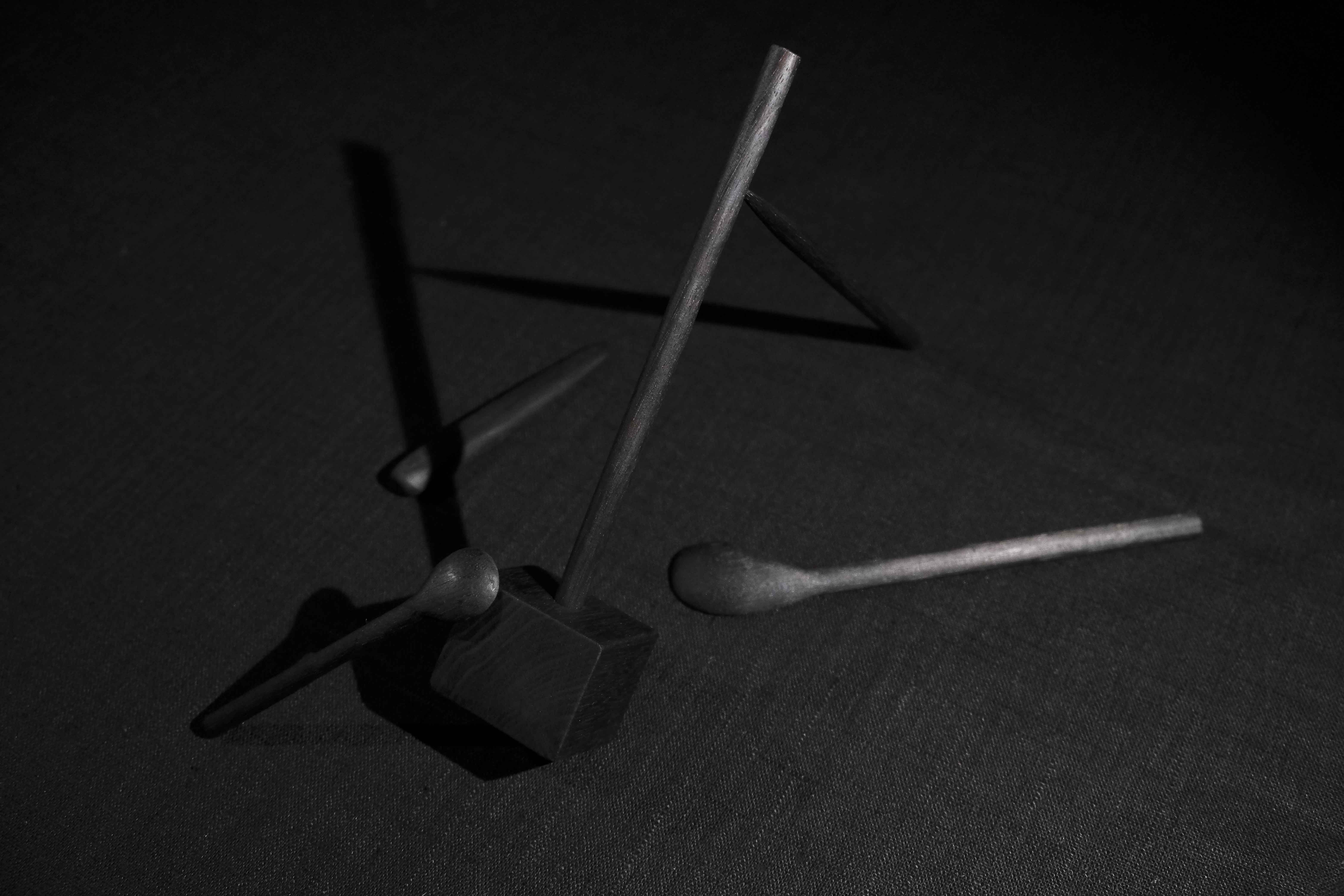 Could you talk a bit about the glass and ice plates trick, as well as the making process behind them?


KR I was interested in the visual similarities of ice and glass. While one is temporal and melts, the other is forged by the flame and hot temperatures. Nina Westman (glass artist, craft department, Konstfack) supported me and my ideas. We established a collaboration where she could explore unusual techniques on glass, through my project. What you usually want to avoid when blowing glass, we wanted to achieve - cracks, bubbles and frosting look. For instance, to create cracks, since the glass is very hot, you need to dip the material in colder water. There were different techniques we explored to achieve the ice result. And I believe we did it: the similarities between the two were really impressive. I was amazed at how similar they were and how they mimic each other. Of course, the trick is temporal. After a few seconds, the ice plate would start to melt and water drops would appear on the surface.

In what aspects do you believe art and design differ, and in which are there accomplices?


KR That is a question that, if asked to 10 people, generates 10 different answers. What I think is that designers are familiar with a whole range of tools: researching, testing, prototyping. The design outcome is tailored in a way that either solves a problem, or provokes a question / reflection. It is also tailored to a specific group of living beings. Art is less experienced with a group of people in mind as observers. Artists work on the research, then propose what people might enjoy, might get interested in, or scared, confused… Art can be collective but it is more introspective. Design includes people in the process. There is always a "for whom" question. Who is involved? Who are you talking to? You need to keep in mind who you want to reach.



In conclusion, who would you see gathering around your dining experience?


KR "This project is predicted to happen among people with power who compromise the living beings and the environment, purely for their own economic and power growth within the structure built on inequality. Can they see below the surface of their acts with the food that is not what it appears to be?"

Looking at political corruption, as well as the misleading way politicians talk with the people through journalists and media, I imagine reversing the story and tricking them in return. You never know what people might think of in front of a specific ingredient, texture, or smell. Quoting John Berger, ("The ways of seeing") we are a collection of our experiences, past memories and encounters in life. We cannot detach that from who we are. That happens especially with food. Food is filled with meaning.

IMAGE BY DOMKA SPYTEK.
Karla Rakuljic Kunjasic is a Croatian-born multidisciplinary designer and artist, with a skill-set ranging from graphic and product design to styling and photography. Her creative investigations often lead to collaborations, using objects, food and experiences as tools to discuss and imagine a more responsible society. She holds an MFA in Design from Konstfack, Sweden.
KARLA RAKULJIC KUNJASIC / INSTAGRAM / WEBSITE.
IMAGES COPYRIGHT © ALL RIGHTS RESERVED.