An Ethereal Underwater Lens: With Barbara Cole

Where the locale is water, time is constant and the female form is expressive, the bodies of work by
Barbara Cole
encapsulate a freshness, fluidity and ethereal nature effortlessly. Self-taught, and exploring changes and experiences, her photography uses water as a vessel, a medium, an embodiment and a metaphor. Amongst others,
Duplicity
is real and vivid and
Appearances
is subtle yet captivating. We spoke to Barbara Cole about her perspectives, her methods and her unique visual works.
Appearances
will exhibit at the Bau-Xi Gallery in Toronto, Canada, from 15 April to 29 April, 2021.
Your series Falling Through Time is influenced by gardens in England. The photographs really immerse you in "between history's layers with confidence and mystery", and the fusion of garden landscapes intertwines effortlessly with the underwater dancing figures.

How does this series link in to the concept of past and present, and the conjoining of relatively different perspectives and times?


BC This may be seen as the linking of different times, but the person who created these images is the common thread joining them together. It's like riding backwards. I always seem to be looking at life through a rear-view mirror while living in the present.
Your series Duplicity brings with it ethereal qualities that accompany the photographs. It seems there is little that needs to be attached to these photographs in the written form because they speak for themselves visually. The eye is drawn to the dress, the lines of the body and the reflections in the water.

What does Duplicity signify to you when you look at it as a whole?


BC Duplicity was a fascinating experiment that allowed us to see the duality of the human experience. It forces us to deal with what is real and at the same time experience a reflection of that reality shows something completely different.



Your series Miroir D'eau / Meditations makes use of old photographic techniques and their aesthetic, specifically the fleeting manner in which photographs are captured and seen through reflections.

How did you manage to capture this aesthetic so well, did you find it came quite naturally as you explored the use of water in different ways?


BC I was visiting the Centre Pompidou in Paris, when I came upon a magnificent reflecting pool on a balcony off one of the exhibition floors. The pool was dotted with sculptures that were semi-reflected in the bits of water left behind from a broken pump. I found it mesmerizing and decided to recreate this in the studio.

At the time, I was learning how to make film for tintypes and found it interesting that the process of making the picture (pouring film across an aluminum plate) mimicked the intermittent watery reflections I was capturing. Of course, much of this was probably lost on the viewer since so little is known of the tintype process but I found it fascinating.
Your work centres around water. Why did you choose water, and what influenced your focus on this locale?


BC I have been a swimmer my whole life. I often refer to water as "my office" as it seems to be a very motivating force for creative ideas. I love the way figures move underwater: a graceful and calming slow motion "effect." My husband and I were fortunate enough to put a pool in the backyard which started to get my creative juices flowing.

Sometimes, not often, I see a finished body of work before it has begun. This happened with Underworld, my first underwater series in 2002. Looking at the contact sheet from my first roll of film on this project, I was on fire. It's gone on like that ever since. I was never really a journalistic type of photographer. Before working underwater, I used Polaroid film because of its painterly quality. When Polaroid film became unavailable, I looked for another painterly way of making art. Water provided that right in my own backyard. It became my new studio.



Would you say that your environments around you have influenced your practice?


BC I would have to agree with that statement. Environment, atmosphere, surroundings are as much a part of the story as the figure passing through it. I'm heavily influenced by the creation of place, whether it is discovering a real, physical place as in the Falling Through Time series or one that is created by using backdrops such as in The Iris Prints.



Have you found that your practice has changed over time, if so, what has influenced these changes?


BC I have always worked "in series", but over time I have become much more critical of what a series consists of. If I don't feel like I would want to hang it in my house, then the piece won't make the cut. I don't allow the galleries that represent me to just "decide" what pieces they want. It's always a two-way conversation. I have lived with this work for sometimes many years and I definitely know which pieces need to be there.

I also have much more confidence and give myself a lot more freedom to explore themes and make mistakes. I used to be much harder on myself when I made a mistake or took a U-turn in the middle of a project, but now I see everything as part of the road you walk down. Often your mistakes are more important lessons than your successes.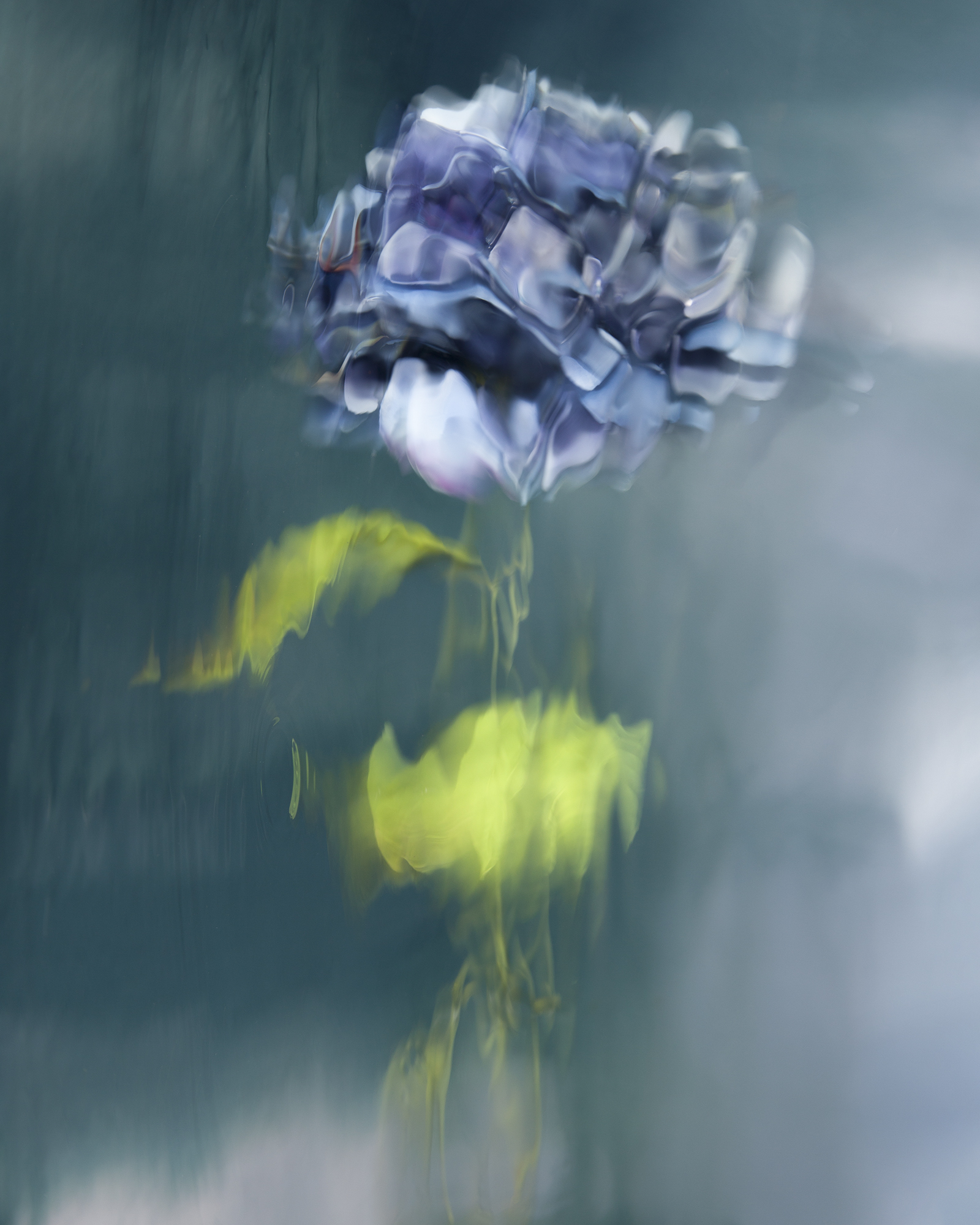 The female form is incorporated into several of your bodies of work.
Does it embody something different in each of your series, or do you alter aspects of the female form to fuel the wider focus of the work?
BC
It's true that I use the female figure in many of my series and the reasons are varied. Firstly, although I didn't realize it at the time, the figure is often a stand-in for myself. The narrative of the series is about something I've experienced and so I would choose a female. I've honestly tried shooting men as well but for one reason or another I'm not as satisfied with the results.
What power do you think artists have in relation to sustainability?

BC
We are able to draw attention in non-literal ways to what concerns us. I work on behalf of water charities for sustainable drinking water and conservation. Also, I work with charities about mental health since that is a large part of my story.
Does your work explore any issues we see prevalent in society?

BC
My last show,
Surfacing
, was about mental health issues, specifically putting in the work to rise up above problems. I did lectures about my own mental health issues hoping to destigmatize this problem which we all know but is unfortunately still quite taboo.
Can you give us an insight into your upcoming exhibition Appearances?

BC
It would be convenient to say that I chose to shoot flowers due to Covid-19 restrictions, but the truth is that I began the series the summer before the pandemic. Although this doesn't happen often, I had the core of the idea pretty well wrapped up before I even took my camera into the water.
Sometimes I feel that my productions get too big and I need to pull back to the basics. The challenge for me was what I could create which hadn't already been seen before while also using the bare minimum: a flower, water, me.
I knew that flowers can be a cliche subject and needed to be careful in my approach. I had never seen flowers shot underwater and I was excited by what I felt was a unique approach. The work evolved over two years and I found that I began to anthropomorphize each blossom. That's why I chose picture names that had so much character like Amelie, Henrietta, Josephine, and the like.
Appearances, Showing At Bau-Xi Gallery, Toronto, Canada. 15 April – 29 April 2021.

Are you working on anything else?

BC
At the moment, I'm working on many projects that are a lot of fun. The first is called
$tore
, which is a tintype hybrid for my first grandchild, Orly. I'm also working on a book project called
Lost and Found
, that combines images of children from a series 30 years ago with a stand-in for myself, my studio mannequin, Franny. I have put on hold a project called
Mystery Boxes
that explores a person and their shadow until after Covid-19. And this summer I have another pool project planned, inspired by a video I saw at a ballet. It's quite ethereal and I can't wait to get started. The pool opens on March 29th!
Barbara Cole is a self-taught photographer and mental health advocate, exploring timelessness, experience and female form through unique underwater works.
BARBARA COLE / INSTAGRAM / WEBSITE.
IMAGES COPYRIGHT © ALL RIGHTS RESERVED.