Connection And Longing Between Two Homes: With Yuge Zhou

Series
WHEN THE EAST OF THE DAY MEETS THE WEST OF THE NIGHT
Artist, Images
YUGE ZHOU / YZ
Interview
MARYAM ARSHAD
Location
BEIJING, CALIFORNIA
Themes
URBAN ENVIRONMENTS, NATURAL ENVIRONMENTS, LONGING, ISOLATION
26.02.21
when the East of the day meets the West of the night
is set on opposite sides of the Pacific Ocean, Beijing and California. The mesmerising and fluid video series is able to capture and visualise the connections, bonds and distances between Yuge's homeland, China and her adopted country, the U.S. Encapsulated by elements of nature,
Part One (Sun)
traverses the movement of the sun rising and setting in both locations, a representation of the feeling of longing and quiet contemplation. The second part of the series is on an indefinite pause, a result of the immigration ban between the U.S. and China. We spoke to
Yuge Zhou
about the significance of place, the hypnotising elements of this series, and the accompanying themes exhibited throughout her work.
What are your relationships like with both China and the U.S.?

YZ
Both places are my homes. My family lives in China, and the initial experiences there established my core personality and shaped my values. But I received my art education in the United States, and my adopted home has given me an identity as a visual artist.
Do you feel you have a more meaningful connection with your homeland? Is this the case even when you are away from it?

YZ
I'm rooted in China, but I'm aware the longer I live in the United States, I must work to maintain my Chinese heritage. My current video series
when the East of the day meets the West of the night
attempts to fuse these two disparate places by bringing together footage filmed from both sides of the Pacific Ocean.
Location refers solely to the point on a map, but place has a much greater meaning. What does China as a place mean to you?

YZ
China as a place evokes memories and nostalgic emotions that range from loss and longing to joyful reminiscences. China in my mind is brighter and more sensate than reality. For example, I remember coming home from school and hearing my mother play the cello or taking a night boat with my classmates across a small lake in the summer. All this has left a mark in my heart and has become what China is for me.
Do you feel technology brings a greater sense of connection and place, or do you feel technology has deepened the sense of longing and isolation?


YZ I use technology to make connections to people and places. But I also realize that technology can alienate people and remove the human touch. I think the challenge of technology is to not focus on itself but become a vehicle to bring out the humanity within us. It is not the end but the means to the end.



Locale is explored in your project, set as both sides of the Pacific Ocean - Beijing and California. Why did you choose to focus on the ocean as locale?


YZ Water is a powerful metaphor, which in this case both divides and connects us. Travelling across the Pacific Ocean and filming in both locations was a challenge, but it was important for me to do it myself. And in the process, I was able to reflect deeper on the nature of separations and connections.

LOVE LETTERS, SOFT PLOTS, PALE PATROL.
Our sense of identity can be shaped by and change dependent on place. Do you find your sense of identity has changed since moving away from your homeland?


YZ Absolutely. After being in the United States for so many years, I find that I have become both an insider and outsider of both places. So many times, I find a clash within me between Chinese thinking and philosophy and American practices.



The flow and movement of people across places is crucial. How has the travel ban and restrictions affected you?


YZ The travel ban has impeded my work as I'm not able to travel to China to film the moonset, which is the second part of the when the East of the day meets the West of the night series. In the meantime, I plan to turn my inability to film there into a conceptual framework for an interim moon-themed piece I've been working on in Chicago.



Your art projects a greater cultural meaning of the impact that a place has on belonging. Why is it important for art to embrace and include elements such as this?


YZ Especially during these times, we've learned that places and identities are closely intertwined. But on a broader level, art is like the canary in the mine telling us about the temper of our society. Some artists are responding to current issues. Others are producing work outside of the present time—existential or universal gestures that transcend or connect with the past, future, or imagined realities. In short, art has always been an important force to push forward political leaders, economic engines, and culture identity and interrogate their directions.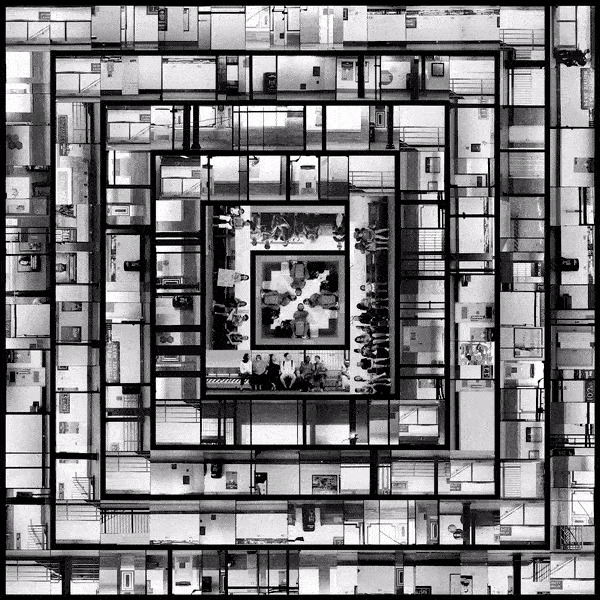 UNDERGROUND CIRCUITS.
Yuge Zhou
周雨歌
is a Chinese artist based in Chicago. Her work traverses through interconnected themes across natural and urban environments.
where the East of the day meets the West of the night,
through fluid and duplicated movements in her video series, emphasises the significance of her history and connections to both her homeland, China and her adopted country, the U.S. By exploring urban and natural environments, isolation and the longing for connection, Yuge's
video collages
push individuals to rethink and analyse our interconnected world. Although her previous work focused on public urban environments, a turn towards the personal arose due to the ongoing COVID pandemic.
YUGE ZHOU / INSTAGRAM / FACEBOOK / WEBSITE.
IMAGES COPYRIGHT © ALL RIGHTS RESERVED.