Integrating Ecology, Migration And Aesthetic Into Art: With Jessica El Mal

At the centre of Jessica El Mal's projects are interlinked themes of ecology, migration and integration, complemented by an overarching positive aesthetic. The compelling notion that art has great potential for exploring and immersing individuals into nature is exhibited in both
This Garden Of Ours
and
The Digital Forest
extensively, amongst the variety of physical and digital projects Jessica El Mal is a part of.
Project: This Garden of Ours. Can you tell us a bit more about this?


JM This Garden of Ours started out as an ACE (Arts Council England) Grants project exploring the positive effects of nature and diversity within it as well as critiquing the key role of botany in the construction of global power dynamics and the lasting effects this has on migration and attitudes towards it. The initial project consisted of a 6-month research and workshop schedule, 25+ artists of migrant backgrounds, and an ongoing public-facing programme of exhibitions and events including an installation, a panel discussion and more as part of Journeys Festival International and more.

Once the first round of funding ran out, we tried to find other people to collaborate with and ways to meet up (as in order to make the group as accessible as possible there are always travel bursaries and food/refreshments at every This Garden event). We were invited to do an exhibition at the Portico Library, a workshop for Syrup Magazine's Designing Protest night at The People's History Museum for example, and have done events with Let's Keep Growing regularly.

As in-person events came catapulting to a halt this year, we utilized our Whatsapp group as a way of peer support, exchanging pictures of how plants are growing in the pots we made last year for example, seeing whose baby cactuses (which were gifted by Hulme Community Garden Centre) has grown the most, and – my favourite aspect of the group – sharing good morning memes every single morning without fail. In a year of isolation, having this group of likeminded yet incredibly diverse individuals has been a blessing.
What environmental themes did you choose to focus on in This Garden of Ours? And why?
JM
In our first exhibition which opened at Manchester Museum, we were trying to collectively evoke the Garden of Eden through research, art and aesthetics. The Garden of Eden represented a way for us to approach environmental themes as it subverted the hostile environment narrative in the UK to provide an inclusive and planetary challenge to it. When people are increasingly becoming displaced due to climate issues, which are disproportionately caused by the global north, a hostile environment – or fortress style of foreign relations which is becoming more and more popular – cannot be part of a fair solution. By creating an installation which presented our own narratives within an Eden-like setting, we were reinforcing that everyone does in fact have the right to safety, health and happiness.
The project as a whole also highlights the key role of botany within global power relations and the history of colonialism which has, in turn, created a legacy of environmental issues. As well as bringing home the prettiest plants for botanical gardens and most useful for medicine, botanists were also responsible for deciding which lands were suitable for cultivating, which soil was rich with nutrients for which crops at the very beginning of colonialism. Botany was integral to the exploitation of land and labour, the effects of which are still very much felt today. One of the project's main aims is to shed light on these links.
While these are the themes the work connects to, you'll notice our work all has a positive aesthetic – this is super important to us. The main aim of the This Garden group is to create a safe and fulfilling space whereby people of colour can experience the healing benefits of both art and nature – a demographic which is currently disproportionately underrepresented within the UK's natural spaces due to legacies of racism and structural inequalities. Within this current climate, I really believe that to relax, to experience nature and collective joy together, is as much an act of resistance in itself.
See
THIS GARDEN OF OURS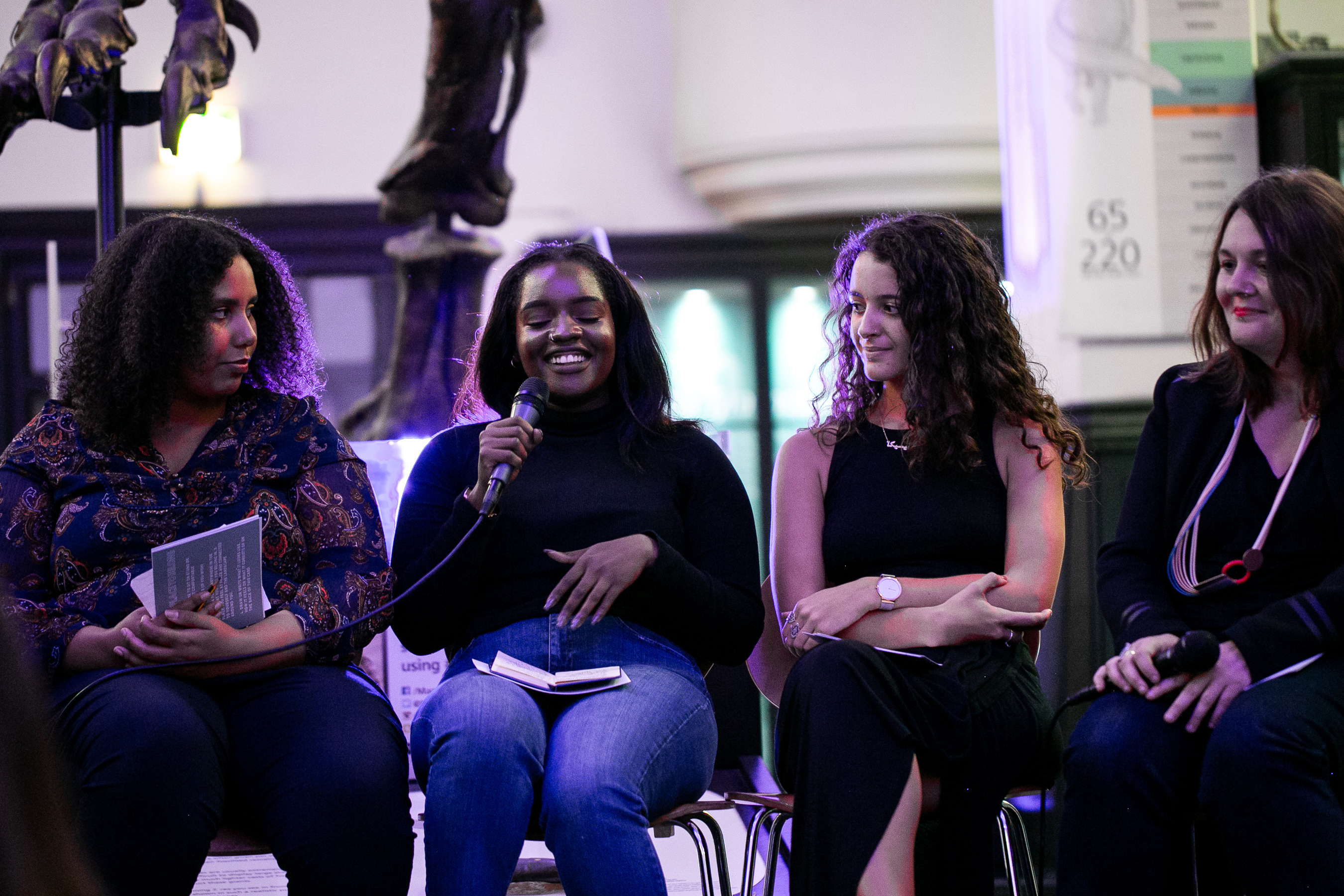 Can you tell us a bit about The Digital Forest and how the project came about?

JM
The Digital Forest
is a commission by Grizedale Forest up in Cumbria, the Forestry Commission and Signal Film and Media in Barrow-in-Furness. I worked on an art project in Barrow in 2018 and have always been fascinated by the area – a place of such natural beauty, violent links to the arms industry and a history of welcoming displaced people dating back to the Balkan war. There is a lot of cultural diversity in Cumbria, but due to the landscape it's hard for people to connect with one another or even to get around and enjoy the landscape without a car. In response to the low numbers of diversity evident within Grizedale forest's visitor numbers,
The Digital Forest
project came about.
I am working with a group of 7 people across the county, amplifying non-western knowledge and experiences of nature on an online platform so that anyone, anywhere – regardless of geographical location or transport – can feel the positive effects of the forest from their own home/locality. To achieve this we will have a multi-sensory platform – ways to engage your smell, touch, sight and hearing. We have also partnered with the Cumbrian library service to create a display of relevant books by authors of colour to enable the public another route to access the work.
See
THE DIGITAL FOREST
What challenges do you think the arts and culture face in embedding environmental concerns in creative practice?
JM
The issues with big institutions are undoubtedly complicity. Where they're getting their funding from, who they invest in, and how complicit that makes the institution in climate change. The Liberate Tate movement against BP funding is one example of this.
Institutions making changes, not just with regards to complicity but also to every day policies like not taking taxis, not catering meetings with meat. There also needs to be a portion of the budget set aside to commit to environmental concerns, whatever the cost. By this I mean institutions without environmental issues written into the budget can be a slave to prices – paying for a flight rather than the train for an artist, for example, as flights are often cheaper, making an artist choose to use an unsustainable fabric due to being £60 cheaper. A creative practice which embeds environmental concerns undoubtably costs more money, and budgets need to be robust for that.Do you have any ongoing or upcoming projects you would like to share?My FACT commission
Visions of a Future
has just gone live – see
here
– which is a collect archive mapping our hopes for how the use of space can be transformed over this time of lockdown. There's a submissions form which invites people to add to the archive, and I'm being booked to run online workshops to help engage people with the themes in the work. This has been a proper lock down project where I had to learn coding and zoom workshopping pretty quickly!
For the past few months I've been curating and producing an artist film with artist Hope Strickland for HOME's PUSH Festival premiering in Feb called
If I could name you myself (I would hold you forever).
The film explores the herbal resistance of Creole women who used cotton root bark as an abortifacient and means of reproductive agency. The very crop for which they were forced into labour, they used to defy a lineage of servitude. Beneath the inherent violence of the slave economic system we find quiet resistance and moments of deep, loving rebellion. Hope is a really amazing and talented artist who has been a pleasure to work with.
There's also a long time coming project with my brother in everything-but-blood, artist Youcef Hadjazi. We have worked together since university with exhibitions in Manchester and Leeds and one which should have opened at P21 Gallery London last November. It was, as everything was, pushed back, and our January date just got postponed again. In true 2020 style we're having a think about other Covid secure options for the installation we have planned, perhaps putting it in a highstreet window for people to see as they walk past. We are lucky enough to have been invited onto a residency with Bucharest AIR and Quote Unquote, so we want to get this exhibition wrapped up before we go!
See
VISIONS OF A FUTURE
What is your vision of how space can be transformed?

Contribute to
VISIONS OF A FUTURE
JESSICA EL MAL / INSTAGRAM.
IMAGES COPYRIGHT © ALL RIGHTS RESERVED.