JOURNEY

2021
ARCHIVES
WORKS PINEAPPLE EYES, SHORN, TOHNG-YANG, SUMMER IN JANUARY, NOMAD NIGHTS
The enemy scans its surroundings, a 360-view
of faces and lagging limbs, the exodus marches
from the comforts of home, the rice pot left behind on fire
extinguished slowly, meals and frantic prayers left
unfinished, an omen for what is to come.
My father told me he had to walk backwards
to blend in with the sea of the displaced, and undetected
returned home once more to collect the things for survival,
shutting all the blinds, but forgetting to linger a little longer
to say a silent and forever goodbye to a place called home.
We are now dispersed, a varied diaspora landing
and settled nicely in the third country, clinging
to black and white photos, reminders of previous lives and
places still adjusting to customs different in tone and tenor
and tastes that will never mix well in the melting pot.
PINEAPPLE EYES
POETRY
VOTEY CHEAV
DESIGN
KULSUM KAROLIA
This infinite memory multiplies
by decades, clings like debris
on sheep too long unshorn,
suffocating, snagged along their
trudge towards certitude.
I beg to be razed, stripped to a
tabula rasa, relieved of my duty to witness.
Let me be a babe, skin goose-fleshed,
achingly cold, beautifully unchained.
SHORN
POETRY
R.B. SIMON
DESIGN
RENUKA RAMANUJAM
In the field
small men grow upside down
calve like ice
bodies flaking like blades of grass
goose
, he says
how can you tell
swans have black beaks
and muteness
and that bit about being migratory in Asia

as if she has hands
the goose portions her feathers
attempts to ladle
TOHNG-YANG
POETRY
CHLOE ELLIOTT
I jump on planes with the memories of summer
in January grazing my heels.
Careening on runways with palms for wings,
balancing arms on top of cockpits,
I hop down to feel the interruption of
those balmy winds.
The year begins with no rains, no glim-
merings of cold June hail.
Autumn follows winter when you weave
a string from pole to pole and glide
down the continents to your southern home.
The year will end with
January heatwaves, April snows.
SUMMER IN JANUARY
POETRY
FRAN FERNÁNDEZ ARCE
DESIGN
JEGANMONES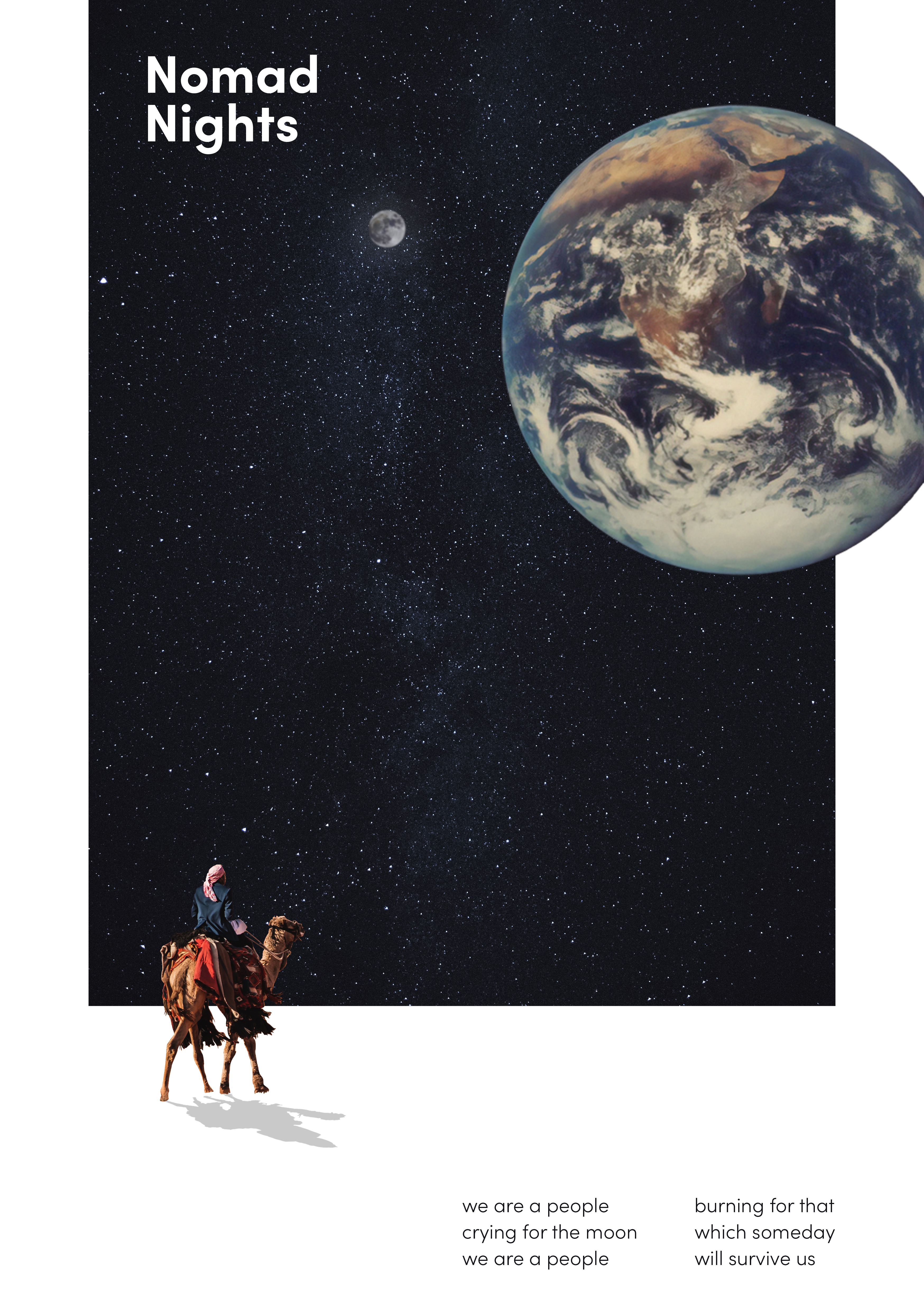 nights like these
bone-cracking cold
the children
wandering little
stars hold hands
under frozen skies
I tell them tales
of long long ago
I tell them
we are a people
crying for the moon
we are a people
burning for that
which someday
will survive us
NOMAD NIGHTS
POETRY
NANCY COOK
DESIGN
SIMI ABE
DESIGNERS
KULSUM KAROLIA
,
RENUKA RAMANUJAM
,
JEGANMONES
,
SIMI ABE
POETS
VOTEY CHEAV
,
R.B. SIMON
,
CHLOE ELLIOTT
,
FRAN FERNÁNDEZ ARCE
, NANCY COOK
PROJECT LEAD, EDITOR
MARYAM ARSHAD
POETRY EDITORS LUCY HULTON
,
LAUREN PETER
THIS PROJECT FUSES POETRY - WHICH TRAVERSES THE MOVEMENTS AND MEMOIRS FROM JOURNEYS - WITH VISUALS THAT EMBODY THOSE WORDS. THESE WORKS FOCUS ON THOSE WHO HAVE DOCUMENTED EXPERIENCES AS REFUGEES, ASYLUM SEEKERS, DIASPORA AND MIGRANTS.
DESIGNERS WERE PRESENTED SOLELY WITH A PIECE OF POETRY TO INTEPRET AND VISUALISE. THE FINAL POSTERS ARE AN INSIGHT INTO THE WORK OF THE POET AND THE MIND OF THE DESIGNER IN HARMONY. THE COLLABORATIVE EFFORTS EXPLORE HOW ONE EXPERIENCE, ONE PERSPECTIVE AND ONE JOURNEY ARE APPROACHED DIFFERENTLY BY THOSE WITHIN AND THOSE OUTSIDE.
ABOUT JOURNEY, THE ACT OF TRAVELLING FROM ONE PLACE TO ANOTHER; A TRIP OVER A LONG PERIOD OR GREAT DISTANCE. REMEMBERING, DOCUMENTING AND MAPPING A JOURNEY. CONNECTING PERSPECTIVES AND EXPERIENCES FROM REFUGEES, DIASPORA AND MIGRANTS. A MONTH LONG COLLABORATION BETWEEN POETS AND VISUAL DESIGNERS, FUSING MEDIUMS TO CREATE EMOTIVE POSTERS EMBODYING POETIC WORDS.