Radici, Just Passing Through, Fabrica, 2022 © Mohammed El Hajoui
Radici, Exploring The Notion of Roots: With Mohammed El Hajoui
GB What is your personal and artistic background?

MH My artistic practice is deeply connected to my personal story. I am an Italian with Moroccan origins, a second generation migrant as people would say.

When I was two-years old my family moved to Italy. I grew up there and then I studied Visual Arts at the NABA Academy in Milan. Later, while working in various digital agencies in Milan, I began developing a personal project deeply rooted in Moroccan culture and traditions.

Starting in February 2022, I had the opportunity to take part in an art residency in Fabrica, a communication research center based in Treviso (north-east of Italy). Being there helped me push my personal research further by working on an installation that, in a way, determined my path as an artist. I think that what defines my art is the visceral obsession with the relationship between the aesthetic choices and the concept of the piece - with one being the mirror of the other. Every detail counts.
Radici (close-up), Just Passing Through, Fabrica, 2022 © Mohammed El Hajoui
GB When did your practice become linked to the notion of roots?

MH When I was younger I had a complex relationship with my roots. I used to cover certain aspects of my culture so I could be recognised as integrated and "westernized". Later on, this awareness of having a strong cultural background became a motor and source of inspiration, something to embrace instead of refuse. So I began recalling my culture first in my university projects, talking about the many frictions a family of immigrants could face when moving to Europe like in my case.

I don't remember being pushed from my family to look at traditions and history from Morocco, but definitely the stories I heard from my grandmother had a great impact on me. I was intrigued with her way of telling stories and it made me nostalgic of the many things I was losing, without realizing it.

The main problem of recalling and openly appropriating Arabic traditions within Western countries is the discriminatory assumption that Arabic culture means islamic extremism. Based on this biased assumption, many people of second generation prefer to negate their Arabic origins and that leads to a slow extinction of culture in western countries.

In parallel, Arabic countries look at western countries as a world to imitate, culturally and aesthetically. As in many other countries undergoing a similar process, the technological developments in production and industry slowly replaces traditions and craft knowledge as well.

References,
Fabrica, 2022 © Mohammed El Hajoui
GB Which elements constitute your installation at the end of the residency?

MH The theme of the semester was "Extinction". It was natural for me to approach it from a cultural point of view. Calling my final project Radici (Roots), with a word that usually stays at the beginning of something, made me reflect on my final work as the starting point of a longer research that I am still carrying on.

The installation is composed of two main elements: the door and the carpet. The door recalls the notion of hospitality and acts as Mihrab, a greatly important element in mosques, oriented towards the Qibla (the direction of Mecca). The need to represent doors arises from an intrinsic and personal need to welcome, to open up to different cultures as part of a dynamic reality for which migration is a necessity.

The carpet is realized through a complex system of traditional arabic patterns, and it is entirely made out of flour. In Arabic traditions, the carpet represents a place of conviviality, where meals and religious rituals are shared amongst the family and the community.

The installation Radici was exhibited amongst 17 other works during the exhibition "Just Passing Through", in Fabrica Research Centre on the 21st July 2022.

Radici, Just Passing Through, Fabrica, 2022 © Mohammed El Hajoui
One of the most important parts of the installation has been the process of making the carpet. I worked alone in the room for weeks, mixing flour and green pigment, composing the intricate sequence of patterns in a maniacal way. The color green is the color of Islam and represents hope, often appearing in traditional clothes.

The whole process became a mindful series of gestures, as I was sifting the flour with a traditional flour sieve, recalling those used in Morocco for bread making. These solitary moments of repetitive work made me empathise with the meaning of my piece and with my own identity.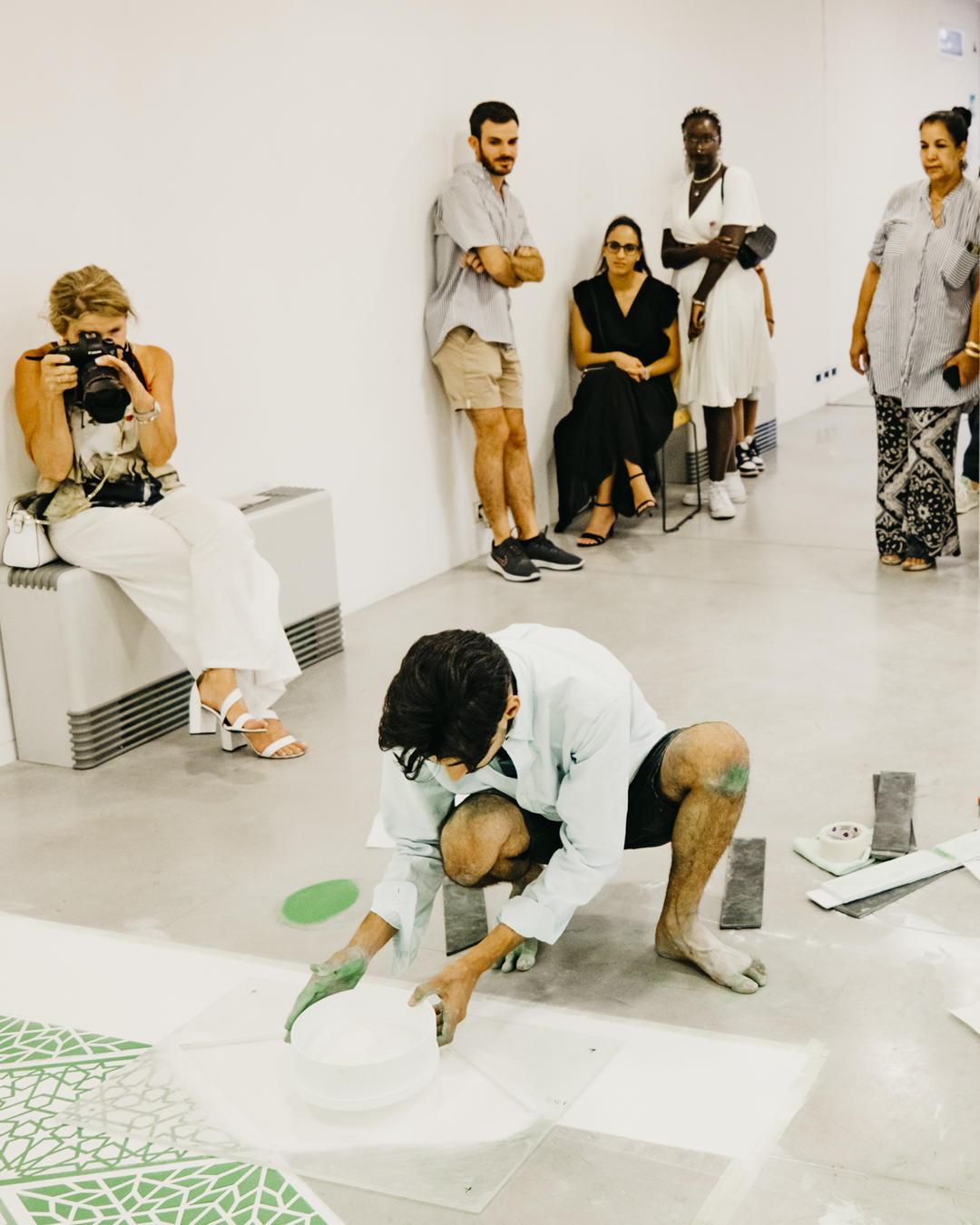 Radici (performance), Just Passing Through, Fabrica, 2022 © Mohammed El Hajoui
GB How important is collaboration in your practice?

MH Another project at Fabrica started from a collaboration with American musician and sound artist Ziaire Trinidad Sherman. Throughout his residency he worked every week with each artist-in-residence producing a sound piece.

When we had the chance to work together, we decided to make a multimedia installation to accompany the sound piece which was inspired by Arabic songs. The result was a projection of an animated door that looked three-dimensional through the use of a smoke machine. I believe that collaborating with other people is the key to exploring different mediums that I am not comfortable with.
Hear Project, Fabrica, 2022 © Mohammed El Hajoui & Ziaire Trinidad Sherman








GB One last thing. What about future projects?

MH I have many ideas in mind. Of course the real challenge is to transform those ideas into actual, meaningful projects and that means facing many logistical issues. That is also part of the game, having to deal and compromise with many people to make your idea into reality. I have been thinking of doing a mural for quite some time now, hopefully I will be able to do it soon. Anyway, in 2023 I will be part of a collective exhibition together with two other artists in a gallery that I deeply admire, based in Milan.

I guess that being an artist is a step-by-step path. You move forward, but for me, it's also very important to look backwards once in a while, and remember where you come from.






Mohammed El Hajoui, born in Morocco near Marrakech in 1995, is an artist and designer currently based between Milan and Treviso, Italy. In 2018 he obtained the first level academic diploma of Graphic Design & Art Direction at NABA in Milan, where he worked both as a 3D designer at an agency and as a freelance 3D generalist. In 2019 he started a personal project called Egira (meaning the word migration - displacement), a collection of tables built with designs and patterns that recall Morocco.

MOHAMMED EL HAJOUI / INSTAGRAM.

IMAGES COPYRIGHT © ALL RIGHTS RESERVED.






PREVIOUS