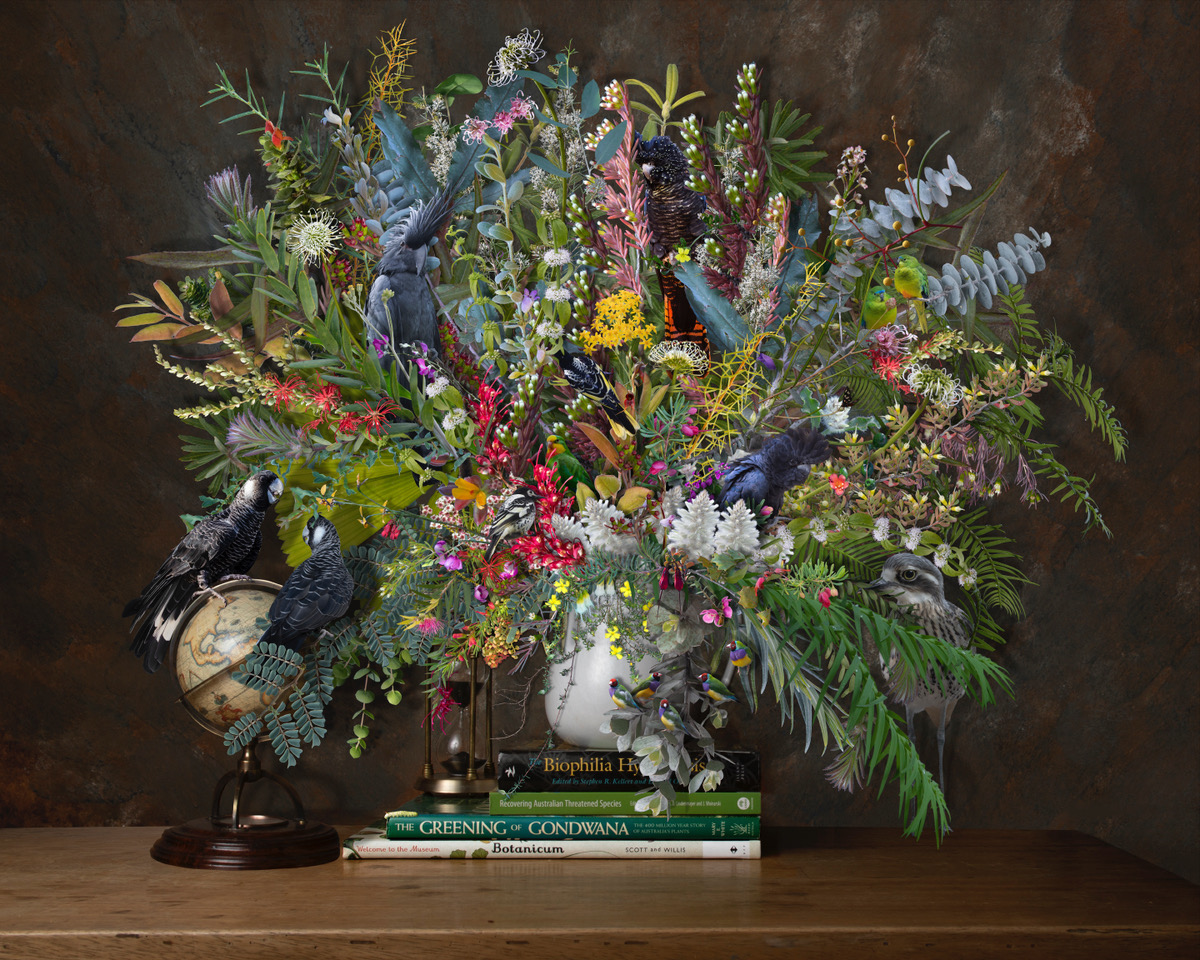 The Delicate, Diverse, Damaged Flora And Fauna Of Australia: With Pamela Pauline

Australia's endangered flora and fauna sit at the heart of this body of work by
Pamela Pauline
, natural elements which are often admired but overlooked in plans for protection. Both
Fragile Beauty, Rich and Rare
and
On The Brink
are reminiscent of the varied and intricate elements of biodiversity that are threatened across the landscapes of Australia. The photographs are a fusion of the real and surreal, the beauty and the danger, signifying both the intent and craft behind this art.
Fragile Beauty, Rich and Rare
is showing at The Royal Botanical Garden, Sydney, Australia, from 6 April to 26 April, 2021.
We understand that you are a fine art nature photographer, what was it that drew you in towards the theme of nature specifically?


PP My early years were punctuated by long harsh winters where building snowmen was much more fun than sitting inside watching television, where marvelling at the abundance of wildflowers in springtime morphed into fly fishing and adventure filled summer camping trips. Simply put, the appreciation of nature and the outdoors was a lifestyle cultivated early on by my parents and informs my life and art practice to this day.



What kind of relationship do you have with nature and how does this influence your work?


PP The love of nature is in my bones. An avid bushwalker and cloud gazer, I feel most inspired when I am outdoors. I believe strongly in the "biophilia hypothesis", whereby humans have an innate affinity for the natural world and where the relentless destruction of the environment will have a significant impact on all aspects of our lives. My current work draws entirely from photographs of live collections of vulnerable, rare and endangered flora and fauna and as such, sits somewhere within conceptual, documentary and staged photography.
FRAGILE BEAUTY, RICH AND RARE.
Flora and fauna are amongst those often overlooked and neglected in plans to protect biodiversity. How did you come about with the idea to focus on this?
PP My work has become increasingly focused on Australia's natural heritage, with a particular focus on its unique flora and fauna. The more I have learned, the more interested and concerned I have become about the biodiversity crisis facing this island continent. While some of Australia's threatened species such as the Koala receive much media attention, 75% of Australia's threatened species are actually flora. This is a story that is seldom told, yet without our plants, nothing survives. Much of the threatened flora occupies the lesser known understory of plant communities, never making it into residential gardens. Passion fuelled my curiosity, which eventuated in this body of work.



Your art directly explores environmental issues. Was it important for you to focus on this issue and explore it through art, as opposed to through another medium?
PP Absolutely. I feel that creating art is the very best use of my own set of skills.



Australia's biodiversity is said to be at breaking point - influenced heavily by the drastic fires, drought and land clearing. How do you hope your work will resonate with people?
PP By co-opting photographs of endangered flora and fauna into artworks, my aim is to showcase the unique beauty around us, along with its vulnerability and the biodiversity crisis facing Australia and the world. Art has the ability to transcend politics, class and culture, making it a powerful form of communication. Last year's bushfires were so severe that in some way, they became a lived experience for every Australian. These artworks are a visual and timely record of what we risk losing, not only to the bushfire threat, but many others.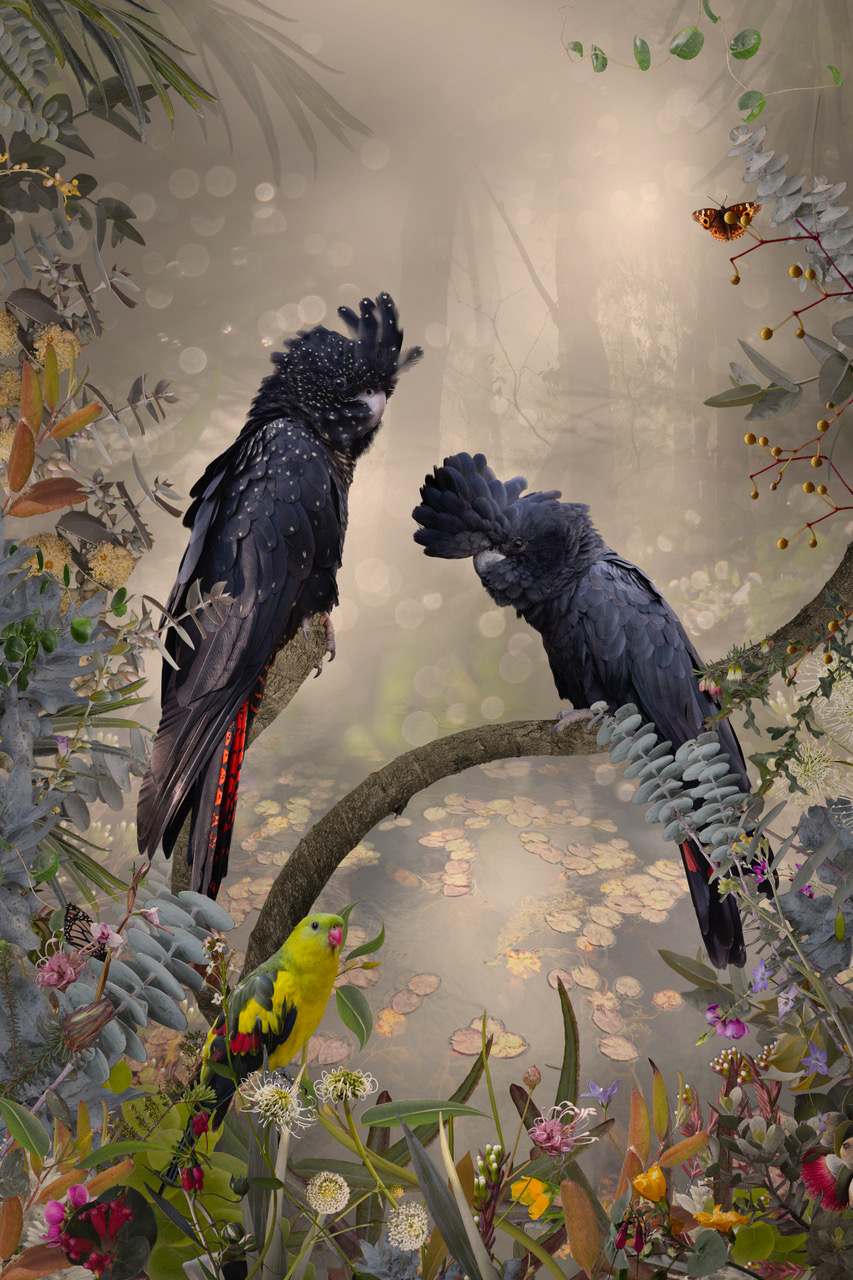 Do you think a change is needed by artists to explore issues like this - that are drastically affecting the environment and with it the life, biodiversity and wider livelihoods and communities?


PP Powered by passion for the environment, it is within this space that I believe I create my best work. However, I do not believe all artists need to create work with a complex message. People create and collect art with varying intentions. For some, a simple contemporary artwork of an ocean or country scene serve to bring back happy memories or to calm an otherwise chaotic household. Some pieces are full of humour, others simply match the colour scheme in a design concept. I have created many such pieces myself but I recognise them as decorative. There is a place for this type of work, although it may not inspire or challenge.

Having said that, the subject matter of threatened species is serious and warrants much more depth. I started the series by creating lush, imaginary scenes created entirely from my photographs of endangered species. This body of work is entitled On the Brink, and while beautiful, it was simply not enough and I needed to take it further. As an artist, I had the opportunity to tell a much deeper story, with a thoughtful underlying message. I used the role of the artist in historical times as my guide. With its visual clues and symbolism, I knew I wanted to pay homage to 17th century Still Life artworks. This involved producing "a record of current day surroundings, creating work that expressed emotion and revealed truths that were universal or hidden and finally, work that helped people to view the world with a different or novel perspective".



You mention that the photographs were taken over a period of 2 years. Did your thoughts and ideas change in that time - or was your intention clear from the start?


PP From the start of this project, the intention was to create an awareness around Australia's biodiversity loss with a particular focus on flora. It began with research and many phone calls, eventually receiving permission to photograph threatened species at the Australian Plant Bank at Mount Annan. This is the home of conservation research, germplasm collection and storage in New South Wales and is the largest native plant conservation seedbank in Australia. During the springtime of 2019, I went weekly behind the scenes to photograph vulnerable species. Guided by the horticultural development supervisor, I timed these visits to capture the often short lived, elusive and glorious moments of many plants not known to the general public. While most of the plants were native to Eastern Australia, there were several species from other parts of the country.

Buoyed by my increasing commitment to this project, I headed to Western Australia and South Australia and made the decision to include threatened birds as part of the project. Canberra was my next port of call, where I was able to capture photographs of species that are grown at the Australian Native Botanical Garden but endemic to other parts of Australia including Tasmania, the Northern Territory and Queensland. With borders now closed within Australia due to COVID, these images enabled me complete this project, with photographs of species endemic to all of Australia's States and Territories.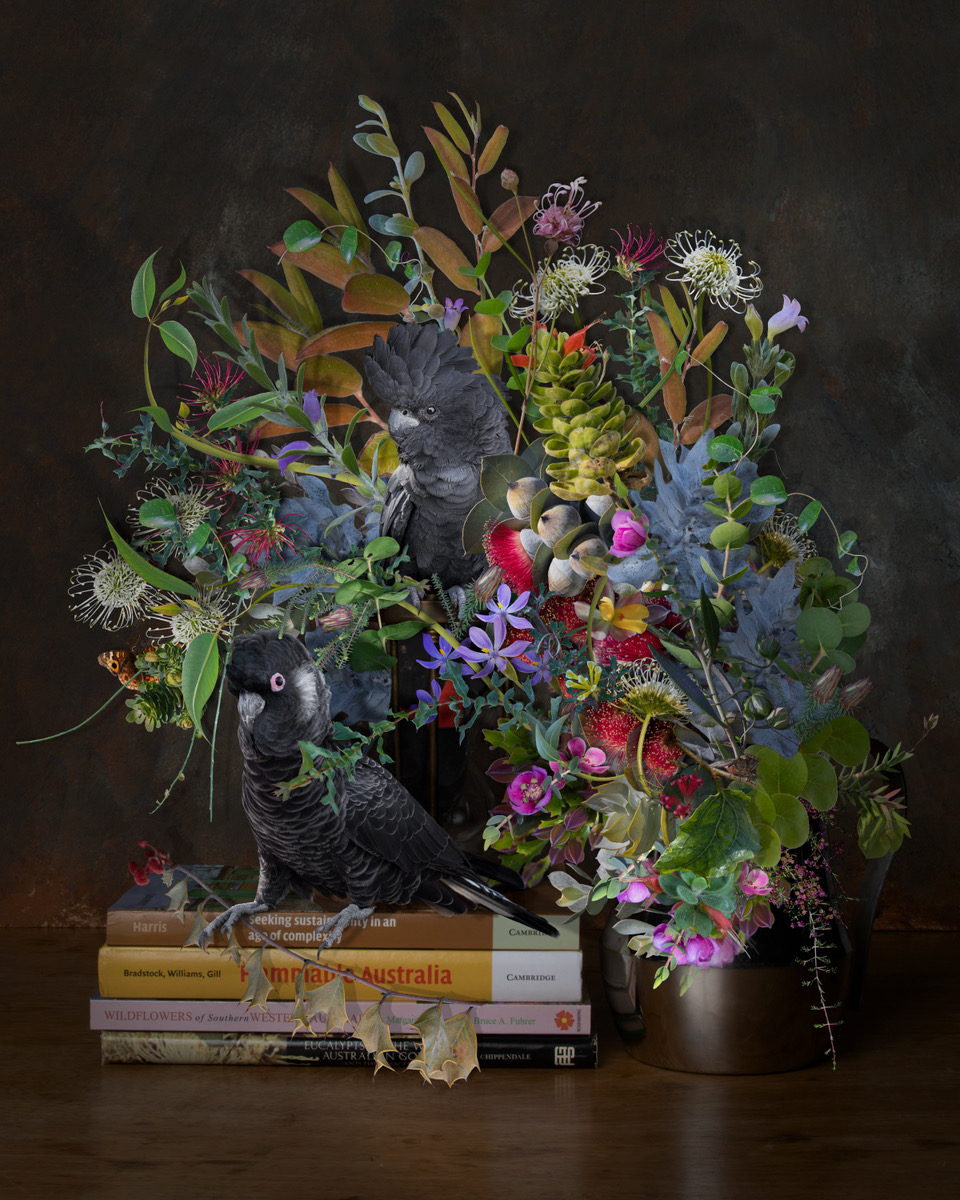 The photographs resemble light and dark, warmth and cold. The reality behind the beauty is the threat of environmental crisis, biodiversity loss and the ongoing impacts that future generations will face. The fusing of beauty and darkness is done fluidly.

Do you think this is necessary, especially when art is exploring issues, in order to present the reality along with surreal views and perceptions?


PP My heart and mind respond to beauty. Images of suffering wildlife or a once lush landscape burnt to a crisp leave me with a feeling of despair. On the contrary, I feel energized and inspired by fleeting moments of beauty in life and in nature, by kindness and birdsong. I want the initial reaction to my artwork to be one of positivity, tapping into the core of human culture – beauty and emotion. Upon deeper contemplation, my intention is that the environmental message around biodiversity will awaken and empower a deeper consciousness towards our planet.



Whilst documenting with specialists, did you discover anything particularly insightful?


PP Working with specialists gave me an enormous appreciation for those people who have devoted themselves to the challenge of conserving Australian biodiversity. The field is so complex, scientific and fluid. The more I learned, the less I knew. Most importantly, I was left with the realization that the only way we can achieve environmental sustainability is to be engaged and motivated citizens.



Why did you choose to work with specialists? Is this an important element of your practice & did it provide a deeper understanding?


PP For this particular project, it was absolutely imperative I work with specialists. I am not a horticulturalist and do not have their knowledge or access to propagated threatened species. Each visit to a particular conservation garden or wildlife rehabilitation centre provided me with a better understanding of why certain species are threatened, whether it be habitat loss or degradation, intense or changed fire regimes, introduced species, over exploitation, pollution or disease. I made it my intention to document as much as I could on camera, as both a professional record of these species as well as for use in environmental artworks.



Are you currently working on any other projects?


PP During the month of April 2021, I will be exhibiting my Fragile Beauty, Rich and Rare and On the Brink bodies of work at the Royal Botanic Garden in Sydney. The completion of these will allow me to refocus on my 'Bush Tapestries, Hanging by a Thread' body of work, an ongoing series of visual tapestries, inspired by the Arts and Crafts era. Deepening my practice, I am hoping to soon collaborate with First Nations people around traditional Bush Food. Stay tuned!



Fragile Beauty, Rich And Rare, Showing At The Royal Botanical Garden, Sydney, Australia. 6 April – 26 April 2021.
Pamela Pauline is a fine art nature photographer based in Sydney. Her work takes inspiration from the Australian landscape, and has been exhibited across New Zealand, Australia, U.S., India and China.
PAMELA PAULINE / INSTAGRAM / WEBSITE.
IMAGES COPYRIGHT © ALL RIGHTS RESERVED.