The Sea, in all its great diversity, is alive. It is the creator of life on Earth. And if it creates life, then it can create art, as did Michelangelo, Rodin, and Cellini. Each sculpture and each magnificent form of theirs captures an emotion which, although we do not necessarily understand, we are moved by and respond to emotionally. And so it is with the creator of life, the Sea. On the desolate shores of Diamond Beach, close to the Jokulsarlon glacial lagoon in Iceland, is the studio of the Sea. This is where the great sculptress creates sublime works of art with ice: faintly iridescent, blue-white, awaiting those who wish to walk among her gallery of sculptures.

I have walked among them, on the coal black shore, the sculptress casting waves that form her chisel, working each ice creation, patiently and relentlessly carving, chipping, forming her creations; I see azure, a simple angular form, the waves bursting in the background; and over there, when I turn, I see a mesmerizing diamondscape of ice jewellery, priceless in their own right, scattered on the velvety blackness of the shore, each diamond hewn in such a way as to be unique in form; and further, as I wander, at my feet lies an ice rock, glowing as if some hidden, magical energy radiates from deep within its frozen soul.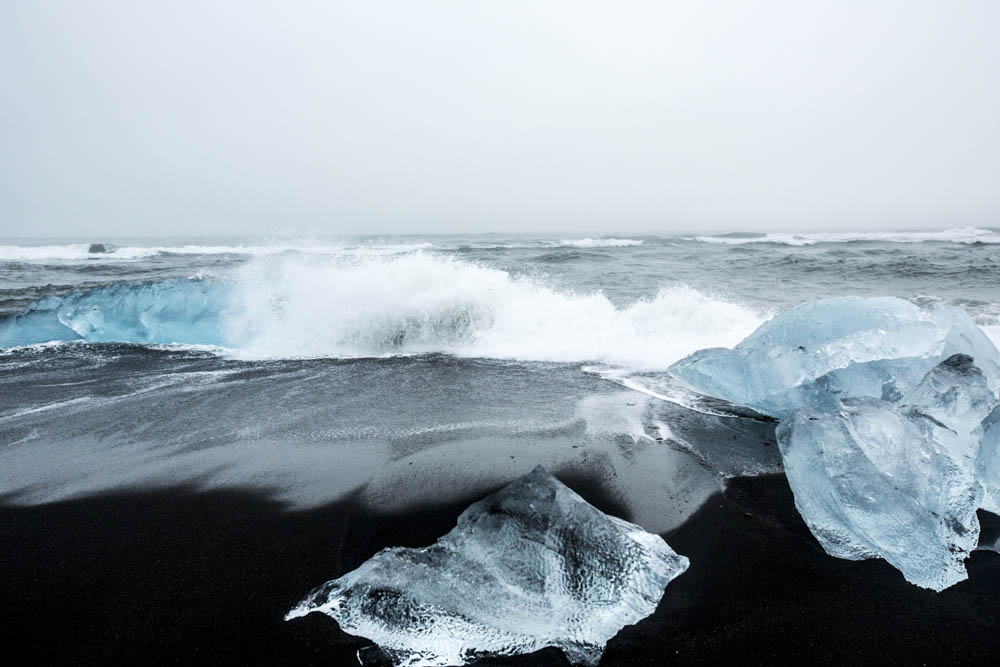 I walk alone among these gems, but soon I step over molten ice, the light trapped in the myriad convoluted channels and micro pools; I stop and capture what I see; I feel I am the only person on the planet, just me, my camera, and the sculptress – I am alone in her world and this feeling is not desolation, it is more elation, a sense of privilege. Suddenly I am confronted by the Piscean sculpture; a beautifully formed and perfectly executed fish, and I almost expect it to move and thrash and disappear among the crashing waves of the foreshore – lost to the darkness of the sea.

When I pause and look toward the desolate sea, not far away, an immense diamond, rising from the shore beckons me over; and I stand and contemplate the majesty of this piece; how many hours did the great sculptress take to create this? I gaze beyond to the ice lagoon, and hope that what I see will never disappear, and contemplate how precious and magnificent this all is and how we must cherish and protect it.

So, this gallery of the sea sculptress beckons all; it is a place for anyone and everyone; each work of art, each piece is there for you, created just for you, and will be there for you if you care to tread the path. So look to the ice sculptures on the greater Breioamerkursandure glacial plain – close to the Jokulsarlon glacial lagoon on the south coast of Iceland. The beautiful avante-garde sculptures await you on the desolate shores of Diamond Beach…

Poppy Hollis is a photographer based in the UK, between London and Kent. She shoots travel, portraits and interiors. Poppy is influenced spontaneously and very differently by each and every destination she visits: the culture, language, climate, food, colours, sounds and smells – a sensory journey that she tries to capture in her images. Her uplifting photography has appeared in titles including VOGUE ITALIA, Harper's Bazaar, Suitcase and National Geographic.

POPPY HOLLIS / INSTAGRAM / WEBSITE.
IMAGES COPYRIGHT © ALL RIGHTS RESERVED.